travel tips
By Tamiya Barnes
Making business travel more fun can be a challenge, especially if you have a limited budget or tight schedule.
Whether you're journeying around the country or have the opportunity to travel internationally for your job, the stress can start to become overwhelming as you navigate crowded airports, rental cars, unfamiliar cities, and working in public spaces.
So if at all possible, it's important to find ways to relax and have some fun. Fortunately, you don't have to spend a lot of money or interrupt your schedule too much to do so.
Here are some ideas for keeping stress at bay as you travel for work:
Come prepared with a great business card
For many professionals, making connections is just as important as the work itself. But networking can be tiresome when you're already drained from traveling.
With the right tools, however, you can make the process easier… Continue reading →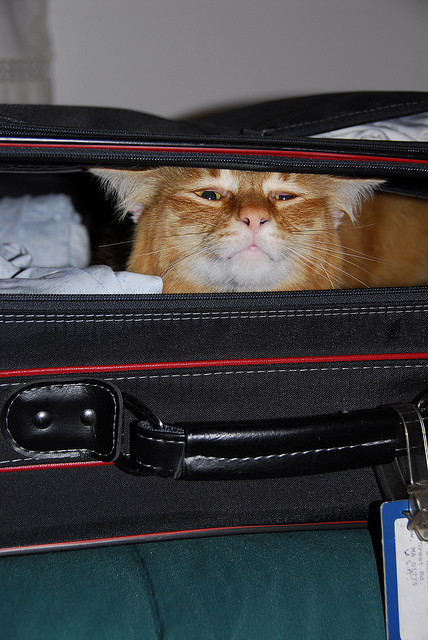 By Dawn Papandrea
While nearly three-quarters of Americans had plans to travel this summer, far fewer followed through.
Just 46 percent of respondents say they went away this summer, according to the latest ValuePenguin survey of nearly 1,600 consumers — this is down from the 73 percent in April who said they intended to travel.
Reasons behind the summer travel opt-outs vary, with air travel woes like delays and cancellations likely a factor. In fact, 48 percent think airports are operating worse now than before the pandemic. Others may have lingering fears about COVID-19, or ultimately pulled back because of higher airline fares.
Key findings
More than half of Americans (54 percent) didn't take a summer vacation this year. That's a stark difference from the 73 percent who told ValuePenguin in April that they had summer travel plans.… Continue reading →
Back in 2003, during a round trip flight from New York to Bali, I had layovers in the Dubai International Airport in both directions. Located in the United Arab Emirates on the Arabian Peninsula, it's a convenient stop between the East Coast of the U.S. (or Europe) and Southeast Asia.
Even then, the airport had a kind of fantasy-land feel to it, with the latest technologies and striking decor. It has since become the world's busiest airport for international travelers, having served well over a billion passengers on more than 7 million flights.
Now, though, many of the passengers are leaving the airport to enjoy a vacation or long stopover in Dubai itself, which has taken the fantasy-land feel to new heights (literally). It's become kind of a cross between Las Vegas (without the "sin city" element) and Disney World (without the humidity and mandatory high prices, though you can… Continue reading →
By Bob Waite
There are tragedies far more consequential than the inability of a travel writer to travel.
It's just that I can't think of any at the moment.
My travels ended in late January 2020. As related on this site, I visited Japan, Vietnam, Laos, and Cambodia. The month prior I had been in China.
Then the world shut down.
Subsequent planned trips to France, Jordan, Israel, Ecuador, and Panama were all postponed or cancelled. My travel was largely confined to trips to the kitchen for subsistence; to my office to teach my college students remotely; or to the family room to watch sporting events or movies.
The highlight during this period of enforced stasis was the rearrangement of the condiments in our fridge alphabetically, A-Z. And then reversing them.
But — Omicron variant permitting — brighter days have arrived. I have begun traveling again… Continue reading →
Here are some of the travel books I've been reading the past few months, any of which would make a nice gift for the hodophile among your family, friends, colleagues — or for yourself, of course.
They're selected to get those travel juices flowing again (if they aren't already).
The Road Trip Survival Guide
By Rob Taylor (Tiller Press, 2021)
Even as the Covid epidemic was dealing severe blows to airline, cruise, and international travel, domestic road trips were zooming in popularity in 2020-21, making this practical yet enjoyably written guide a timely read.
Penned in a folksy style, Rob Taylor encourages readers to "explore at their own speed" and modify his suggestions as needed to fit their own circumstances.
That said, just about any road-tripper (novice or experienced) can find loads of tips within these pages. Divided into five sections — Planning, Packing, Road Trip Food, Safety, and… Continue reading →
The best part of planning for retirement is imagining yourself in your new lifestyle — Including having the freedom to travel.
By Rick Pendykoski
According to the 19th Annual Transamerica Retirement Survey, two-thirds of American workers spend heavily on travel in their first year of retirement. Many plan to travel abroad, while others may want to retire overseas. (Take a look at this abroad retirement checklist to see if the expat life is financially right for you.)
But even if you come up short on that checklist, you can still travel affordably in retirement. The key is proper planning. Here is a seven-step guide to follow:
Set Your Goals & Make a Bucket List
Spend some time thinking about your retirement goals. Those who plan for retirement are more likely to find a happy retired life than those who don't.
Get into as many details as possible, and list the… Continue reading →
Vacation rentals can provide an excellent alternative to staying in hotels while traveling, but there are possible pitfalls you need to know before you book with VRBO or Airbnb.
Guest poster David Goldstein, who has extensive experience staying in vacation rentals abroad (as my wife and I did in Tokyo and Kyoto, Japan; the island of Milos in Greece, and elsewhere), explains:
By David Goldstein
My wife and I have been booking vacation rentals through VRBO (vacation rentals by owner) and Airbnb for almost 20 years.
Both platforms offer great options for travelers who are looking for something a little different than a typical hotel experience. We enjoy the freedom that having our own place in a foreign city allows. We grocery shop in the local markets, explore the neighborhood bakeries, and start to get a sense of new cultures.
While I wouldn't go so far as to say… Continue reading →
Note: This story was originally written and published at Thrifty Traveler, a flight deal and travel website. It has been republished here with their permission. You can read the original story on the Flight First Rule on their website.
By Kyle Potter
Thrifty Traveler
Most travelers follow a similar script when planning any trip: Set the dates, pick a spot, book a hotel, book a flight, and go.
You're doing it wrong: That's a recipe to pay too much for flights almost every single time. But four simple words could help you significantly cut the cost of airfare every time you fly. And no, it's not by clearing your cookies or booking flights on a Tuesday. This is even bigger than that.
We call it The Flight First Rule. And it's exactly what it sounds like.
Instead of deciding on the dates of your trip before booking your flights,… Continue reading →
While international travel restrictions may be easing somewhat, people living overseas still face difficulties getting vaccinated, being comfortable taking long flights, and perhaps facing long quarantines if they wish to go home for visits.
Many are retirees or other baby boomers who have not been able to see children and grandchildren for more than a year.
Guest writer Jack Warner tackles the issue of what my old sociology professor would call "expat alienation." Translation: loneliness and other tough stuff to deal with.
By Jack Warner
Much of the world has been living under lockdown measures for more than a year, as countries across the globe have put travel restrictions in place to curb the spread of Covid-19.
One often overlooked set of victims has been expats, unable to travel to visit… Continue reading →
Even as COVID-19 infections reach record highs in the United States, a number of countries have opened their borders to American travelers carrying U.S. passports.
These include popular destinations like Croatia — one of the few European countries now open to U.S. travelers — Turkey, Mexico, and Costa Rica, although some come with major restrictions.
Several Caribbean countries — including Aruba, Barbados, Dominica, St. Lucia, and St. Maarten — also welcome Americans and their dollars, all-important to their economies.
Please note that I'm not recommending international travel at this time, especially if you have any reason to believe you may have been exposed to the coronavirus, or — like many baby boomers — you fall into high-risk categories such as advanced age or underlying medical conditions.
Until the COVID threat passes, you'll also be… Continue reading →