transportation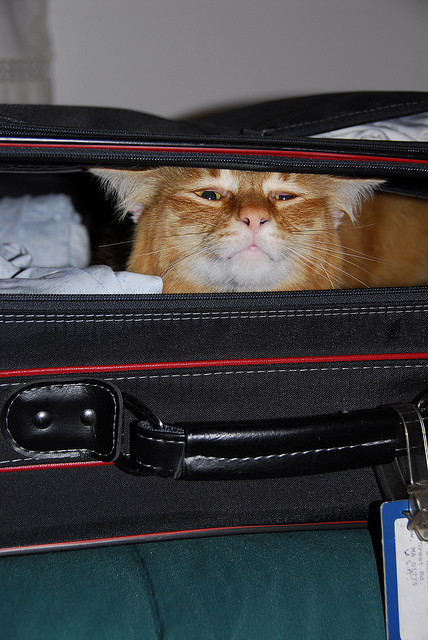 By Dawn Papandrea
While nearly three-quarters of Americans had plans to travel this summer, far fewer followed through.
Just 46 percent of respondents say they went away this summer, according to the latest ValuePenguin survey of nearly 1,600 consumers — this is down from the 73 percent in April who said they intended to travel.
Reasons behind the summer travel opt-outs vary, with air travel woes like delays and cancellations likely a factor. In fact, 48 percent think airports are operating worse now than before the pandemic. Others may have lingering fears about COVID-19, or ultimately pulled back because of higher airline fares.
Key findings
More than half of Americans (54 percent) didn't take a summer vacation this year. That's a stark difference from the 73 percent who told ValuePenguin in April that they had summer travel plans.… Continue reading →
Editor's Note: This is Part II of "Bordering on Madness," chronicling the adventures and misadventures of Contributing Writer Robert Waite as he journeys from England to Moscow and back in 1971, driving a vintage Triumph Spitfire. As we pick up the tale, he has just entered the USSR after refusing to drive his car into a six-foot-deep concrete pit at the border.
If you missed Part I of "Bordering on Madness,' you can read it here.
By Robert Waite
On this first day we drove to the city of Minsk, which today is the capital of an independent Belarus, but was then part of the Soviet Union.
The roads were relatively empty, save for a few lumbering, diesel smoke-spewing trucks. We made it to our hotel at about… Continue reading →
Award-winning travel photographer Dennis Cox and I have been friends since high school. We've collaborated on a number of magazine and newspaper projects over the years, and Dennis has contributed many of his photos for use on clarknorton.com.
Our collaboration has worked out well since my photography skills are about on a par with his writing abilities. In other words, if he sticks to camera work and I stick to words, we do OK.
One of our collaborative pieces for United Airlines' Hemispheres magazine, on China's ethereal Mt. Huangshan, was named Best Magazine Travel Article of the year in 1995 by the Pacific Asia Travel Association. We've also worked together on pieces for The Washington Post Magazine, Destinations magazine, the San Francisco Examiner, and other publications.
But we had never done a book together until now. The final product, which we finished earlier this year — Cruising the World: From… Continue reading →
This morning I received an email (below) from  Scott's Cheap Flights, which is my go-to website for airline deals.
Scott Keyes' site regularly turns up airfares that are 50 percent off the regular price, and sometimes up to 90 percent off  — but they're often good for just a day or two, so you need to act fast. (Sign up to get email notifications of the daily deals.)
But acting fast to grab great fares (and with airlines anxious to fill seats again, they are plentiful) isn't easy in the midst of a pandemic — because it's difficult to know what the situation will be next year, much less a month or two from now.
While I've been on the cautious side of the when-is-it-safe-to-fly debate — as a baby boomer, my age puts me in a higher-risk category — I found Scott's take on the risks… Continue reading →
As of late April, 2020, world cruising came to a complete halt, when the MSC Magnifica ended its epic voyage around the world that began way back on January 5, just about four months and a lifetime ago.
At the time, there were relatively few public stirrings about a mysterious virus apparently emanating from Wuhan, China, and passengers were treated to several stops in South America before rounding Cape Horn and heading to the South Pacific.
The rest of the Magnifica's voyage didn't exactly go as planned (though, ironically, free of coronavirus, it was actually one of the safest places to be on the planet).
Rejected by some Pacific islands — the virus by now had struck several other cruise ships, which were all seeking safe havens and, in many cases, being turned away —… Continue reading →
My favorite method of traveling through Europe is by train, and Americans are fortunate to be able to buy Eurail Passes, which offer a variety of ways to tour the continent by rail.
You can choose among the One Country Pass — allowing you to thoroughly explore, say, France, Italy, or Spain; the Select Pass, which lets you choose among two, three, or four bordering countries; or the global pass, good for exploring the whole of Europe, up to 28 countries.
And from now until December 31, you can purchase Eurail Passes at 20 percent off their usual price.
On top of that, you'll get an extra 15 percent off if two of you travel together on all segments.  (Make sure you choose you travel partner carefully, since you will just have one pass with two names on it,… Continue reading →
Today we're featuring the second in a series of How to Travel on the Cheap by Jesse Miller, who writes for the website JenReviews.com.
This post is filled with tips on how to save money on different forms of transportation: flying, taking trains and buses, going on cruises, and utilizing public transportation, car services, and my own favorite method of getting around manageable distances: walking.
Here, then, are Jesse's tips on getting the best deals on what is often the most expensive part of your vacation:
By Jesse Miller
In order to take your trip, you'll need ways to get around. Because these transportation services are typically the most costly, it's important to weigh your options based on your budget instead of convenience.
Even though flying is the most common mode of travel when taking a vacation, there… Continue reading →
In Part 2 of our multi-part series on travel deals and discounts for active-duty military and vets, Alex Miller, writing for upgradedpoints.com, takes a look at websites and airlines that offer special airfares for military personnel past and present.
Following that up, Miller then details websites that offer deals on resorts and other lodging options for veterans.
To read Miller's previous post, which outlined a number of websites dedicated to travel (and other) deals for the military, go here.
By Alex Miller
Booking Flights as a Military Veteran
The following websites provide discounted flight booking for veterans:
Military Fares: Military Fares allows users to search a variety of airlines for military airfares. The platform is a Priceline Partner Network that provides an extensive offering of flights. Recent military deals that users have purchased are displayed so visitors… Continue reading
Leading-edge baby boomers — those born in the late 1940s — are now edging into their 70s, and with that inevitably come new challenges when we travel, no matter how healthy we are.
Much as we may hate to admit it (and I'm a prime offender in this regard), we may walk a bit slower, require assistance from time to time, and need to take care of ourselves a bit more.
Flying and airports can be especially vexing, and so I was struck by this piece by Bay Area freelance journalist Scott Morris from the excellent website caring.com that's filled with tips on how to make the flying and airport experience a bit smoother.
Here's Scott on a topic of interest to anyone who flies, but especially to older travelers:
By Scott Morris
Flying can be difficult… Continue reading →
What are the best seasons to travel?
I'm tempted to answer that FAQ with a one-word answer: Anytime. You'll almost always find something positive in any trip, even if it rains every day.
But that's the easy way out. A lot depends on where you're going and what your specific interests are in that place. And a few destinations are limited to one particular season of the year.
Weather is often — though not always — the key factor.
A trip to Finland in summer, for instance, is very different than a trip to Finland in winter. Both have their charms — as do the fall and spring seasons there, for that matter. But you might as well be traveling to two different countries in  the Finnish July and January.
Most travelers… Continue reading →