cultural travel
I admit I was a little surprised several years ago when I toured the entire island of Ireland and discovered that St. Patrick — the patron saint of Ireland and largely credited with bringing Christianity to he country — actually did much of his missionary work in and is reputedly buried in County Down, which is now part of Northern Ireland, which is part of the United Kingdom.
It was a quarter-century ago (April 1998) that "The Troubles," as they were called — an often violent class-related and sectarian three-decade conflict in Northern Ireland between those who wanted to remain in the UK (mostly Protestants) and those who wanted to break away and join the Republic of Ireland (mostly Catholics) — ended in the Good Friday Agreement to settle the issue peacefully.
Because my grandfather was a Protestant born in County Fermanagh, in what is now Northern Ireland, before he… Continue reading →
Of all the cruises I have taken, three ports stand out as the most stunning (especially if you sail into them at sunrise or sunset): Istanbul, with its mosques and soaring minarets; Kotor, Montenegro, a medieval village on a pristine bay — and my favorite of all, Malta.
Malta's port, Valetta, is a city of forts, turrets, palaces, cathedrals, and ancient walls dating from the 1500s, when the Knights of St. John (of Crusader fame) moved here from the island of Rhodes.
As our guest contributor Harley Burke points out, Malta has myriad attractions meriting a stay well beyond the standard cruise ship stopover. And don't miss the smaller, more rural island of Gozo, reachable by ferry and home to some fascinating prehistoric sites (along with beaches and hiking trails).
By Frank Viviano
Barga, Italy —
A peculiar marriage of wild celebration and tacit mourning takes place each year on August 16 in Barga, the hilltop Tuscan town where I've lived for two decades.
Its people dance in the piazzas to the music of accordions and mandolins. Outdoor markets hum with shoppers until well after midnight. Dazzling fireworks explode over its Medieval cathedral and ramparts.
This is the feast of San Rocco, a centuries-old holiday dating back to the most lethal pandemic in world history. It commemorates the ardent re-embrace of life after the inconceivable horrors of the 14th century's Black Death – in which Barga's Serchio Valley almost certainly played a critical role.
Over the brief span of four years beginning in 1348, the Plague carried off up to 60 percent of Europe's entire population, leaving an indelible scar in the collective memory.
As harrowing as our struggle with… Continue reading →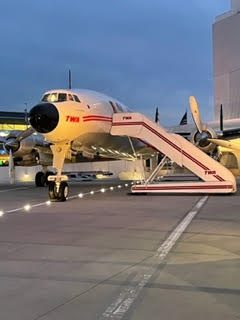 By Steve Anzalone
The pandemic's impact on me as a traveler became crystal clear when, a few months ago, standing in line to re-enroll in the TSA PreCheck program, I pondered something unimaginable just a few years earlier: Was PreCheck worth the $80? Would I be doing enough travel ahead to justify the investment?
Count me among the millions of Boomers now getting back on the horse.
Sidelined for so long by Covid and facing adjustments to retirement and the indignities of advancing age, we are traveling again. Our circumstances vary. We will have stories to tell.
My story is about a small first step and a small victory for optimism. I forked over the $80 and proceeded full speed ahead with the trip on the drawing board.
Truth be told, it wasn't really my first post-Covid travel. During those heady days between a second booster and the arrival of… Continue reading →
Back in 2003, during a round trip flight from New York to Bali, I had layovers in the Dubai International Airport in both directions. Located in the United Arab Emirates on the Arabian Peninsula, it's a convenient stop between the East Coast of the U.S. (or Europe) and Southeast Asia.
Even then, the airport had a kind of fantasy-land feel to it, with the latest technologies and striking decor. It has since become the world's busiest airport for international travelers, having served well over a billion passengers on more than 7 million flights.
Now, though, many of the passengers are leaving the airport to enjoy a vacation or long stopover in Dubai itself, which has taken the fantasy-land feel to new heights (literally). It's become kind of a cross between Las Vegas (without the "sin city" element) and Disney World (without the humidity and mandatory high prices, though you can… Continue reading →
Ecuador, a relatively small nation (about the size of Nevada), packs a wallop for its size — offering a remarkably diverse set of natural and cultural attractions.
I've been lucky enough to travel to all four of its main regions: The Andes (including the colonial-era city of Quito); the Amazon basin; the Pacific coast, anchored by the city of Guayaquil; and the Galapagos Islands, 600 miles out in the ocean. All are memorable.
In this informative and engaging piece, contributing writer Robert Waite continues his recent journey through Ecuador by taking us to Yasuni National Park and the Napo Wildlife Center deep in the Amazon rainforest. Here's his report:
By Robert Waite
Yasuni Park, Ecuador – There are two indigenous tribes located in Ecuador's Amazon rainforest, the Tagaeri and the Taromenane, who have had virtually no contact with the outside world.
I say "virtually" because there have been… Continue reading →
By Robert Waite
Quito, Ecuador – There are three things to keep in mind when planning a visit to Quito, capital of Ecuador.
First, it is high. Not Cusco-high, but — at 9,350 feet (2,850 meters )– you're 2,000 feet (610 meters) higher than Mexico City. It may take you a few days to acclimate.
Second, it is hilly. As one who once lived on Russian Hill in San Francisco, I thought I knew hilly, but Quito even beats the City by the Bay.
Third, it is old. The present-day city was established by Spaniards in 1534, almost 100 years before the founding of Boston. And indigenous peoples lived here for centuries before that.
And if I were to add a fourth, it would be not to miss the surrounding countryside, known for its mountains, lush natural beauty, and a chance to straddle the Equator itself.
It's Mardi Gras time in Louisiana, and not just in New Orleans.
Several years ago I was in Lake Charles, Louisiana, during Mardi Gras, and while the carnival festival there is more low-key than in New Orleans, it's said to be the second largest in the state.
Along with a few other visiting travel writers, I was invited to ride on the local Convention and Visitors Bureau's float, which led the midday parade. Best of all, we were also invited to throw out beads and candies to the folks lining the parade route.
People had camped out all morning to get a prime spot, bringing their folding chairs and coolers stocked with cold drinks, many wearing Mardi Gras colors: purple, green and gold. They also wore beads, funny hats, sequined outfits, and various Krewe T-shirts, indicating allegiance to the various social clubs that build and run the parade floats. (There's… Continue reading →
Ever since my own visit to Panama, I've considered it one of the "essential countries" for travelers.
And not just because it harbors a canal vital for global commerce. Panama also connects two continents (North and South America) and is a key link in a chain of countries (including neighboring Costa Rica and Colombia) that claims some of the greatest biodiversity on the planet.
For older baby boomers, it's also an enticing location for retirement, offering comparatively low prices and modern amenities.
Contributing writer Robert Waite recently visited Panama and returned with this informative report:
By Robert Waite
Panama City – When I think of airlines and stopover programs, Icelandair comes immediately to mind.
For no extra charge, they allowed you to stop over in Reykjavik when flying from North America to Europe. They often threw in discounted hotel stays and a trip to the hot spring-fed Blue Lagoon.
But… Continue reading →
Here are some of the travel books I've been reading the past few months, any of which would make a nice gift for the hodophile among your family, friends, colleagues — or for yourself, of course.
They're selected to get those travel juices flowing again (if they aren't already).
The Road Trip Survival Guide
By Rob Taylor (Tiller Press, 2021)
Even as the Covid epidemic was dealing severe blows to airline, cruise, and international travel, domestic road trips were zooming in popularity in 2020-21, making this practical yet enjoyably written guide a timely read.
Penned in a folksy style, Rob Taylor encourages readers to "explore at their own speed" and modify his suggestions as needed to fit their own circumstances.
That said, just about any road-tripper (novice or experienced) can find loads of tips within these pages. Divided into five sections — Planning, Packing, Road Trip Food, Safety, and… Continue reading →