Airlines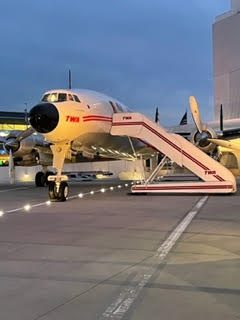 By Steve Anzalone
The pandemic's impact on me as a traveler became crystal clear when, a few months ago, standing in line to re-enroll in the TSA PreCheck program, I pondered something unimaginable just a few years earlier: Was PreCheck worth the $80? Would I be doing enough travel ahead to justify the investment?
Count me among the millions of Boomers now getting back on the horse.
Sidelined for so long by Covid and facing adjustments to retirement and the indignities of advancing age, we are traveling again. Our circumstances vary. We will have stories to tell.
My story is about a small first step and a small victory for optimism. I forked over the $80 and proceeded full speed ahead with the trip on the drawing board.
Truth be told, it wasn't really my first post-Covid travel. During those heady days between a second booster and the arrival of… Continue reading →
Ever since my own visit to Panama, I've considered it one of the "essential countries" for travelers.
And not just because it harbors a canal vital for global commerce. Panama also connects two continents (North and South America) and is a key link in a chain of countries (including neighboring Costa Rica and Colombia) that claims some of the greatest biodiversity on the planet.
For older baby boomers, it's also an enticing location for retirement, offering comparatively low prices and modern amenities.
Contributing writer Robert Waite recently visited Panama and returned with this informative report:
By Robert Waite
Panama City – When I think of airlines and stopover programs, Icelandair comes immediately to mind.
For no extra charge, they allowed you to stop over in Reykjavik when flying from North America to Europe. They often threw in discounted hotel stays and a trip to the hot spring-fed Blue Lagoon.
But… Continue reading →
According to reports, an unruly passenger who recently forced an American Airlines pilot to return to Miami en route to London was sitting in first class.
In this timely post, Contributing Writer Bob Waite offers his perspective on encountering rude behavior in the premium seats and check-in lines.
It's happening more and more often — the U.S. Federal Aviation Administration investigated three times as many unruly passenger events in 2021 as in any of the previous 25 years. And just because someone is sitting in first class, doesn't necessarily mean they exhibit first-class behavior.
By Bob Waite
Is it just me, or do the airlines bring out the worst in people?
The other day I was at the Air Canada counter in Toronto checking in for a flight to Honolulu.
Suddenly, there was a commotion to my right. A man of middle-age and middle-girth was having a tantrum worthy of… Continue reading →
Note: This story was originally written and published at Thrifty Traveler, a flight deal and travel website. It has been republished here with their permission. You can read the original story on the Flight First Rule on their website.
By Kyle Potter
Thrifty Traveler
Most travelers follow a similar script when planning any trip: Set the dates, pick a spot, book a hotel, book a flight, and go.
You're doing it wrong: That's a recipe to pay too much for flights almost every single time. But four simple words could help you significantly cut the cost of airfare every time you fly. And no, it's not by clearing your cookies or booking flights on a Tuesday. This is even bigger than that.
We call it The Flight First Rule. And it's exactly what it sounds like.
Instead of deciding on the dates of your trip before booking your flights,… Continue reading →
Based on that headline, things are looking up!
The travel and hospitality industries — airlines, restaurants, hotels, cruise lines — have taken the brunt of the economic hit during the pandemic. Estimates are that at least $500 billion of travel business has been lost in the U.S. alone.
With about 10 percent of the world's population employed in some travel-related occupation, the global cost has been staggering, and many smaller operators, especially — tour companies, family-run restaurants, inns and the like — have struggled to survive or been forced to close down permanently.
Now, even with COVID cases still raging in many parts of the U.S. and the world, some 200 million Americans (out of 330 million) have received at least one dose of vaccine — and the travel industry is moving into… Continue reading →
With the European Union announcement that fully vaccinated travelers should be able to fly to Europe at some point this summer, sufficiently jabbed baby boomers can take advantage of some truly exceptional airfares currently being offered to the Continent.
There are also some lower-than-low airfares to Asia, Latin America, the Caribbean, and within the U.S. Some are almost mind-boggling.
But you have to know where to look — and just as important, when to look.
That's where the website ThriftyTraveler.com comes in.
By subscribing to its Premium service ($59.99 a year) you'll get email notifications of hot economy-class airfare deals around the globe within minutes from the time they appear — which is good, because some of these deals disappear within a matter of hours. Thrifty Traveler considers a fare worth writing about if it's $250… Continue reading →
Keeping track of what's going on with airline fares these days is almost a full-time job.
That's why I've turned to Scott Keyes of Scott's Cheap Flights — whose full-time job actually is keeping track of airline fares — to help navigate through the turbulence.
In this guest post, Scott tackles the real story behind the recent wave of U.S. airlines dropping change fees. As usual, it's a mix of good and bad — or at least middling — news for the consumer. But for all the uncertainty, we'll take what we can get.
By Scott Keyes
Last week, four airlines—United, Delta, American, and Alaska—announced they were permanently axing change fees, which for domestic flights had typically been $200 (plus any fare difference). Hooray!
Sort of.
On balance, this is a positive move for travelers, but it's not nearly the panacea that airlines would have you believe. There are still… Continue reading →
As dedicated travelers, what are we to think of the concept of "travel shaming" — the notion that it's irresponsible to travel or even plan future trips during a pandemic?
According to a recent New York Times article, people desperate to get out of their houses after months of self-quarantining are heading off on the road — but are traveling on the sly, reluctant to post pictures on social media or even to tell friends they're leaving, for fear of being judged.
As the Times quoted Harvard Business School assistant professor, Jillian Jordan, who studies moral psychology: "The pandemic presents a unique case of travel entering the moral sphere, because there are two things that happen when you travel: The first is that I put myself at risk, and… Continue reading →
This morning I received an email (below) from  Scott's Cheap Flights, which is my go-to website for airline deals.
Scott Keyes' site regularly turns up airfares that are 50 percent off the regular price, and sometimes up to 90 percent off  — but they're often good for just a day or two, so you need to act fast. (Sign up to get email notifications of the daily deals.)
But acting fast to grab great fares (and with airlines anxious to fill seats again, they are plentiful) isn't easy in the midst of a pandemic — because it's difficult to know what the situation will be next year, much less a month or two from now.
While I've been on the cautious side of the when-is-it-safe-to-fly debate — as a baby boomer, my age puts me in a higher-risk category — I found Scott's take on the risks… Continue reading →
Some 25 million Americans are expected to travel for the Thanksgiving holiday – up seven percent from 2017.
It's considered the busiest travel season of the year in the U.S.
Last year, more than 153,000 flights departed from U.S. airports between the Tuesday before Thanksgiving and the Monday after.
Airports are busiest on the Sunday after Thanksgiving, making it the worst day to fly if you're looking to avoid crowds, delays, and disruptions.
The best time to fly to avoid disruptions is between 6 a.m. and noon.
Here are the busiest flight routes: 
Los Angeles International Airport (LAX) → San Francisco International Airport (SFO) and reverse
New York LaGuardia Airport (LGA) → Chicago O'Hare International Airport (ORD) and reverse
Kahului Airport (OGG) → Honolulu International Airport (HNL) and reverse
New York John F. Kennedy International Airport (JFK) →… Continue reading →