Baby boomer travel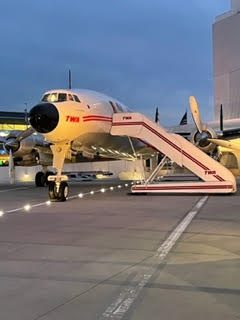 By Steve Anzalone
The pandemic's impact on me as a traveler became crystal clear when, a few months ago, standing in line to re-enroll in the TSA PreCheck program, I pondered something unimaginable just a few years earlier: Was PreCheck worth the $80? Would I be doing enough travel ahead to justify the investment?
Count me among the millions of Boomers now getting back on the horse.
Sidelined for so long by Covid and facing adjustments to retirement and the indignities of advancing age, we are traveling again. Our circumstances vary. We will have stories to tell.
My story is about a small first step and a small victory for optimism. I forked over the $80 and proceeded full speed ahead with the trip on the drawing board.
Truth be told, it wasn't really my first post-Covid travel. During those heady days between a second booster and the arrival of… Continue reading →
By Stephanie Haywood
Starting over after experiencing a setback, loss, or major life event can be a challenge — but it can also be extraordinarily helpful when you're trying to get your mental health back on track.
Finding a new city and home, making connections, and preparing for a fresh start requires some planning. You may also decide to travel a bit to search for the perfect spot to relocate to, which will take some preparations in itself.
Here are a few helpful tips for starting over in a new city after retirement:
Do your research
Unless you already have a city in mind, it's a good idea to do some research online to compare potential relocation spots. Narrow down the options according to the average climate in the area, the crime rate, and the accessibility to things you need.
Think about the details, such as whether the city has… Continue reading →
One of my favorite trips ever was to the Galapagos Islands, via a small cruise ship, much like the one contributing writer Robert Waite took in his compelling narrative below. The fellow pictured above, a marine iguana with a face only a mother (or mate) could love, is one of countless friendly creatures my wife and I encountered during our eight-island cruise. But I'll leave it to Bob to chronicle his own experiences, which complete his trilogy on traveling to Ecuador, including visits to the colonial-era capital, Quito, and the Amazon.
By Robert Waite
Santa Cruz Island, Galapagos – Want to feel young again, even if you are in your sixth or seventh decade? Head to the Santa Cruz highlands, where you will be a veritable spring chicken compared to the Galapagos giant tortoises ambling about.
Many tortoises reach 100 years of age or more, and one —… Continue reading →
Back in 2003, during a round trip flight from New York to Bali, I had layovers in the Dubai International Airport in both directions. Located in the United Arab Emirates on the Arabian Peninsula, it's a convenient stop between the East Coast of the U.S. (or Europe) and Southeast Asia.
Even then, the airport had a kind of fantasy-land feel to it, with the latest technologies and striking decor. It has since become the world's busiest airport for international travelers, having served well over a billion passengers on more than 7 million flights.
Now, though, many of the passengers are leaving the airport to enjoy a vacation or long stopover in Dubai itself, which has taken the fantasy-land feel to new heights (literally). It's become kind of a cross between Las Vegas (without the "sin city" element) and Disney World (without the humidity and mandatory high prices, though you can… Continue reading →
Ecuador, a relatively small nation (about the size of Nevada), packs a wallop for its size — offering a remarkably diverse set of natural and cultural attractions.
I've been lucky enough to travel to all four of its main regions: The Andes (including the colonial-era city of Quito); the Amazon basin; the Pacific coast, anchored by the city of Guayaquil; and the Galapagos Islands, 600 miles out in the ocean. All are memorable.
In this informative and engaging piece, contributing writer Robert Waite continues his recent journey through Ecuador by taking us to Yasuni National Park and the Napo Wildlife Center deep in the Amazon rainforest. Here's his report:
By Robert Waite
Yasuni Park, Ecuador – There are two indigenous tribes located in Ecuador's Amazon rainforest, the Tagaeri and the Taromenane, who have had virtually no contact with the outside world.
I say "virtually" because there have been… Continue reading →
By Robert Waite
Quito, Ecuador – There are three things to keep in mind when planning a visit to Quito, capital of Ecuador.
First, it is high. Not Cusco-high, but — at 9,350 feet (2,850 meters )– you're 2,000 feet (610 meters) higher than Mexico City. It may take you a few days to acclimate.
Second, it is hilly. As one who once lived on Russian Hill in San Francisco, I thought I knew hilly, but Quito even beats the City by the Bay.
Third, it is old. The present-day city was established by Spaniards in 1534, almost 100 years before the founding of Boston. And indigenous peoples lived here for centuries before that.
And if I were to add a fourth, it would be not to miss the surrounding countryside, known for its mountains, lush natural beauty, and a chance to straddle the Equator itself.
It's Mardi Gras time in Louisiana, and not just in New Orleans.
Several years ago I was in Lake Charles, Louisiana, during Mardi Gras, and while the carnival festival there is more low-key than in New Orleans, it's said to be the second largest in the state.
Along with a few other visiting travel writers, I was invited to ride on the local Convention and Visitors Bureau's float, which led the midday parade. Best of all, we were also invited to throw out beads and candies to the folks lining the parade route.
People had camped out all morning to get a prime spot, bringing their folding chairs and coolers stocked with cold drinks, many wearing Mardi Gras colors: purple, green and gold. They also wore beads, funny hats, sequined outfits, and various Krewe T-shirts, indicating allegiance to the various social clubs that build and run the parade floats. (There's… Continue reading →
Ever since my own visit to Panama, I've considered it one of the "essential countries" for travelers.
And not just because it harbors a canal vital for global commerce. Panama also connects two continents (North and South America) and is a key link in a chain of countries (including neighboring Costa Rica and Colombia) that claims some of the greatest biodiversity on the planet.
For older baby boomers, it's also an enticing location for retirement, offering comparatively low prices and modern amenities.
Contributing writer Robert Waite recently visited Panama and returned with this informative report:
By Robert Waite
Panama City – When I think of airlines and stopover programs, Icelandair comes immediately to mind.
For no extra charge, they allowed you to stop over in Reykjavik when flying from North America to Europe. They often threw in discounted hotel stays and a trip to the hot spring-fed Blue Lagoon.
But… Continue reading →
According to reports, an unruly passenger who recently forced an American Airlines pilot to return to Miami en route to London was sitting in first class.
In this timely post, Contributing Writer Bob Waite offers his perspective on encountering rude behavior in the premium seats and check-in lines.
It's happening more and more often — the U.S. Federal Aviation Administration investigated three times as many unruly passenger events in 2021 as in any of the previous 25 years. And just because someone is sitting in first class, doesn't necessarily mean they exhibit first-class behavior.
By Bob Waite
Is it just me, or do the airlines bring out the worst in people?
The other day I was at the Air Canada counter in Toronto checking in for a flight to Honolulu.
Suddenly, there was a commotion to my right. A man of middle-age and middle-girth was having a tantrum worthy of… Continue reading →
Several years ago I wrote about the Mediterranean island nation of Malta offering citizenship and a passport to most anyone willing to pony up US$850,000 for the privilege.
Malta's potential clients included Americans eager to move to and/or travel freely among the European Union (EU) nations and many other countries, some of which might not welcome US travelers.
But the first nation to offer citizenship and passports for sale was the Caribbean dual-island state of St. Kitts and Nevis (more formally, the Federation of Saint Christopher and Nevis), way back in 1984.
Best known for its beaches, mountains, and tropical atmosphere — as well as the birthplace of Alexander Hamilton in Nevis — the Leeward Islands' destination is the smallest nation in the Americas, both in size and population. An 18-mile scenic railway circles the entire island of St. Kitts (Nevis is even smaller), and Vervet monkeys are said to… Continue reading →